Lately I've come across some seriously sweet looking recipes featuring Oreos. Seriously, who doesn't love Oreos?! Actually, it's been a long time since I've eaten one, but it's impossible to forget that yummy white cream center. When I was a kid, I'd pull the two cookies apart and then peel the filling off and save it till the very end. I still eat like that – whatever I like best gets eaten last.
So get out your KitchenAid and your stretchy pants and enjoy some Oreo decadence! Starting with a veritable Oreo orgy from Jenny at Picky Palate… here's Double Cookies and Cream Kiss Cookie Bars – yes, please!
Who wants regular Rice Krispie squares when you can have Cookies & Cream Rice Crispy Treats?!
How about a batch of Warm Baked Chocolate Chip Cookie Stuffed Oreos…
If that's too much decadence, there's these Itty Bitty Oreo Stuffed Chocolate Chip Cookies.
Want more? OK! How about Dreamy Oreo Brownies from Shelly at Cookies & Cups.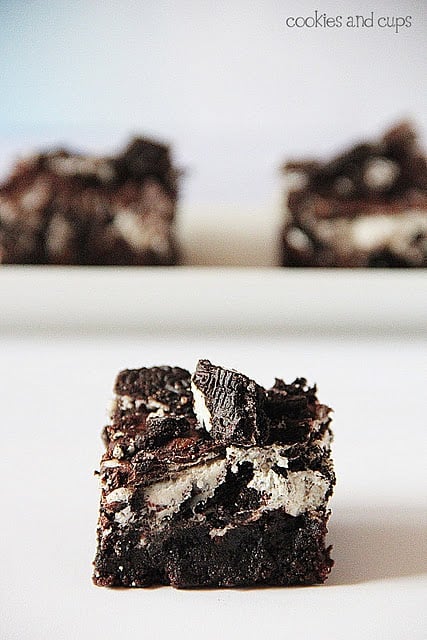 From Kevin at Closet Cooking, Cookies & Cream Popcorn
Oreo Cheesecake Cookies from Stephanie at Stephanie Cooks.
Oreos for breakfast? Sure, why not?! When they're Oreo Cookie Pancakes from at Dana & John at Minimalist Baker!
Ooey-gooey Individual Oreo Turtle Cheesecakes from Lauren at Lauren's Latest – mmmmm, caramel!
And what the heck – why not go all out and make one great big Cookies & Cream Oreo Look-Alike Cake from Michelle at Brown Eyed Baker.
If I only had the time and metabolism to taste-test all of these for you! But judging by the pictures, I'm pretty sure each and every one of these Oreo creations is freakin' awesome!
Happy baking!